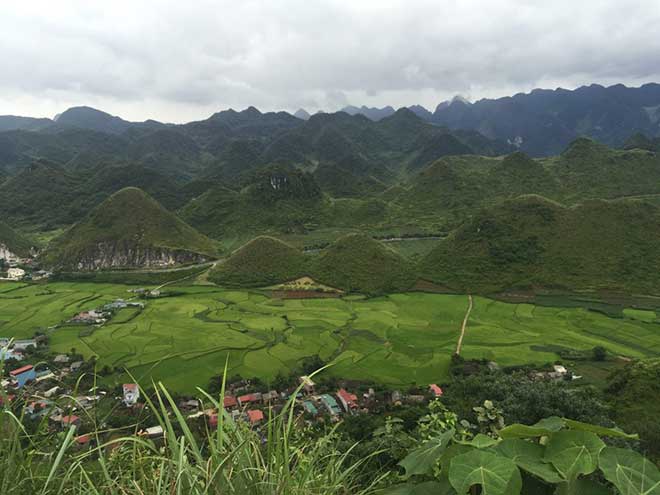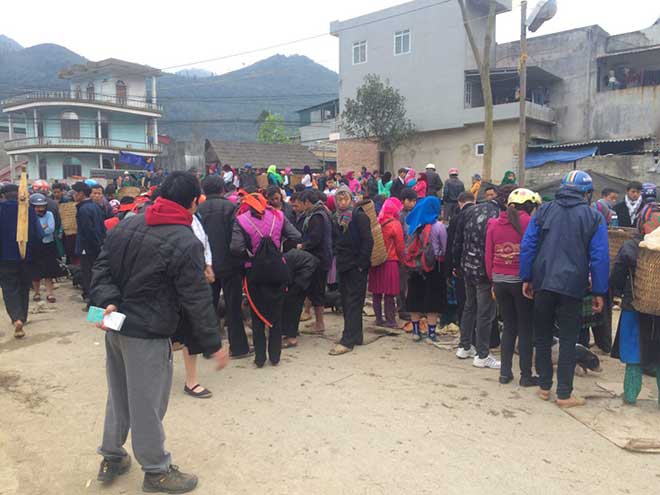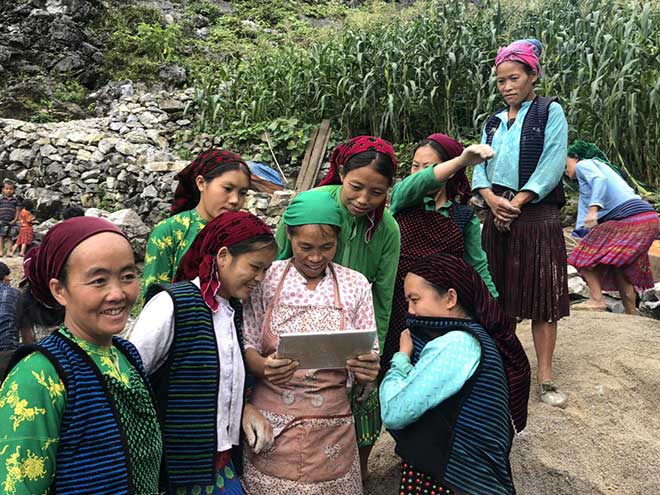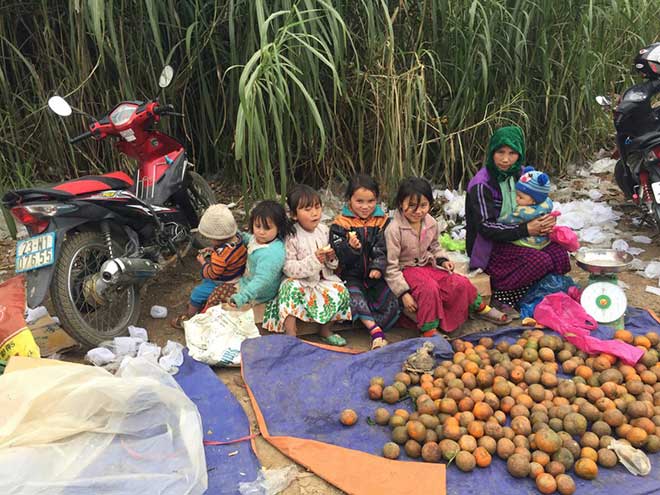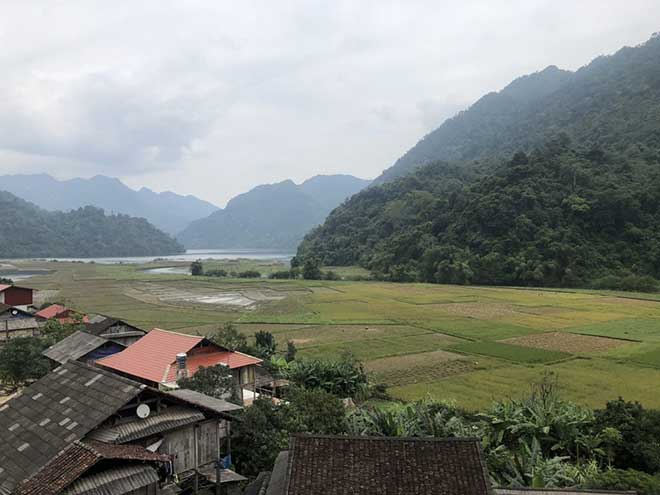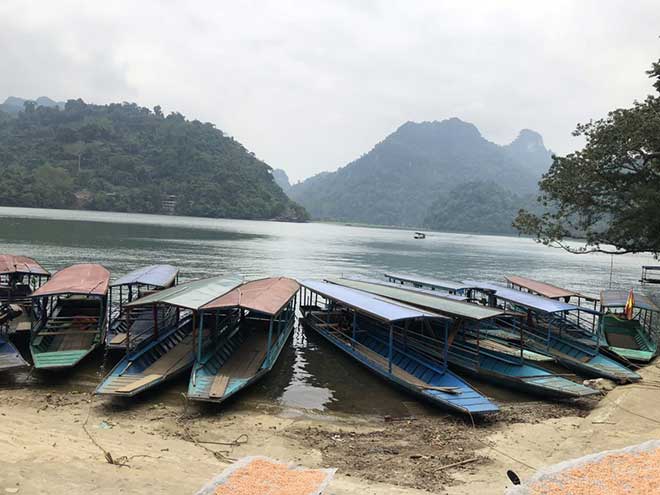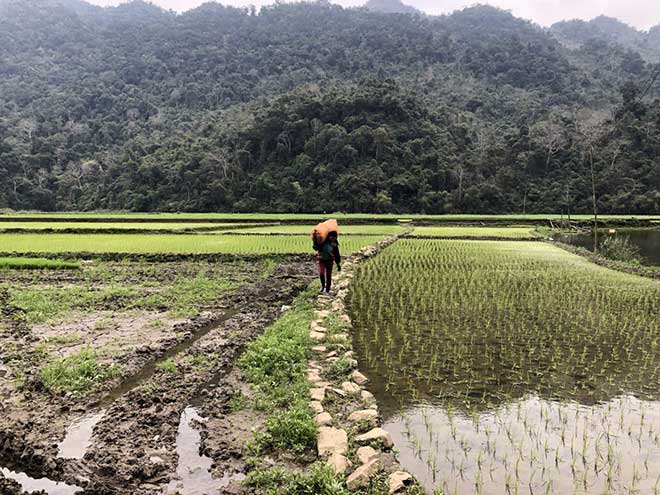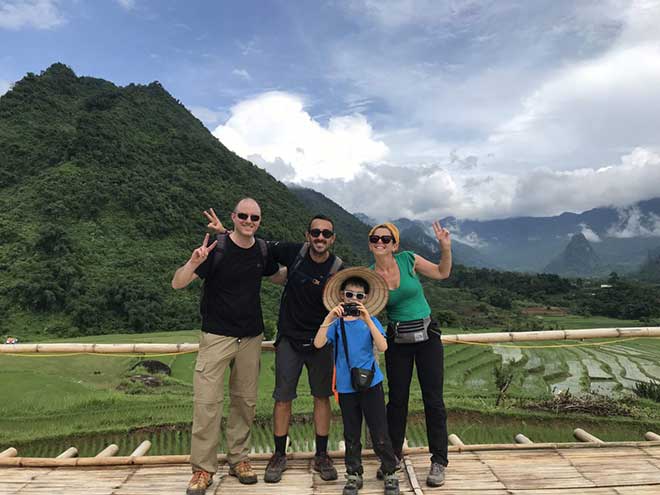 Ha Giang Ba Be Lake Tour 7D6N
Day 1: Hanoi / Hagiang
We depart Hanoi between 7.15am to 7.30am from your hotel.
Stop along the way for short break and Lunch.
Around early afternoon, we arrive in Ha Giang. Take a eay hike around the village and settle in with a local Tay family for dinner and spending the night in a traditional wooden stilt-house. (Lunch and dinner are included).
Day 2: Hagiang / Quan Ba / Dong Van
We drive to Quan Ba Heaven Gate, following twisting narrow mountain roads and passing the dramatic mountains. Beautiful hiking trails and villagers greet us at Quan Ba. The terrain features verdant and small hillocks, seasonal farmlands and is home to Dao and Tay people.
During our hike we take time to encounter the local people going about their day and learn about their traditional and intricate weaving practices.
We head down the mountain and find Dong Van, a beautiful town surrounded by impressive rock formations. 
Here, we end our day with a deliciously prepared dinner before we settle in with a local family for the night. (Breakfast, lunch and dinner are included).
Day 3: Dong Van / Meo Vac
The hike for today is through remote and beautiful countryside of Dong Van where we pass through several villages along tracks used by the local people.
We are rewarded with a brilliant backdrop of picturesque valleys covered in rice paddies.
The H'mong and Hoa people, who are the local ethnic minorities, exhibit their friendliness through their colorful clothing and warm hospitality.
Later we drive the scenic journey up through rugged outcrops to the beautiful town of Meo Vac.
Set amongst towering mountains, Meo Vac is home to some H'mong and Hoa farming families. The scenery up here is breathtakingly beautiful.
As the sun sets, we descend due to the township of Meo Vac for the night in the hotel. (Breakfast, lunch and dinner are included).
Day 4: Meo Vac / Bao Lac
We start the day early with a refreshing morning hike through peaceful villages, before embarking on a route up into rolling mountain areas and terraced rice farms onwards to Bao Lac, a little town in the mountainous region of northeastern Vietnam.
The area is home to the Black Lo Lo ethnic group. Here women still wear their traditional black dresses put on over their head, with large sleeves made of bands of cloth in different colours, and a long, full black kirt, tight at the waist and at the knee.
There is an indigo turban decorated with multicoloured fringes and embroidered motifs, a belt, and leggings.
From there we take a hike through the Black Lo Lo villages and witness the life of local people. There is the opportunity to see how corn wine is produced. 
Later in the afternoon we head to the township of Bao Lac. Perhaps, we explore the local marketplace before checking into a hotel for the night. (Breakfast, lunch and dinner are included).
Day 5: Bao Lac / Ba Be Lake
Early this morning we journey to Ba Be Lake. This is one of the largest natural lakes in Vietnam, home to many kinds of birds, scenic valleys, towering rocky outcrops, underground river tributaries, and a gigantic cave.
All of the villages in the park are not necessarily ethnic Tay. Those located high up on the slopes are inhabited by Green H'mong and Red Dao hill tribal people.
Arriving in Ba Be Lake – our final destination today – for an overnight stay in a traditional wooden stilt-house. (Breakfast, lunch and dinner are included).
Day 6: Ba Be National Park
The day begins with a morning trek in the park, we descend into the scenic valley, home to the Tay minority people and encircled by rock formations.
In the afternoon we cross the rolling hills and pass Hmong and Red Dao villages. The scenery is extraordinary, with rural farmland, and rugged mountains jutting out of the tangled jungle growth.
We end our day in the same local family for the night. (Breakfast, lunch and dinner are included).
Day 7: Ba Be Lake / Hanoi
Today we enjoy a beautiful boat ride along the lake, visiting the largest natural lake in Vietnam. We head off our boat for some easy hikes along the way, seeing the impressive waterfalls that feed the lake and observing the natural flora and fauna.
Returning to land early in the afternoon we eat lunch while enjoying the magnificent views over the lake, before making our way back to Hanoi. 
The Ha Giang Ba Be Lake Tour 7D6N ends on arrival in Hanoi approximately 6pm. (Breakfast and lunch are included).
Ha Giang Ba Be Lake Tour 7D6N
Price is based on per adult, in Double/Twin sharing, for group of 2 people
Please contact us for more information
Included:
Accommodation: 3 nights at homestay  and 3 nights at hotel (2-star)
Private car
English speaking guide
All meals mentioned in the itinerary
Entrance fees as per itinerary
Two bottles of mineral water per day
Permits during guided excursions
Excluded:
Travel Insurance
Tips, laundry and gratuities
Drinks
What to take:
Pack essentials for 7 days away from Hanoi, including light comfortable clothes suitable for outdoor activities, comfortable hiking shoes.
Take a small day pack for hiking and trekking.
It is essential to bring your passport on this trip.
We also recommend packing: swimsuit, personal articles, insect repellent, sun cream, raincoat and sun hat, …