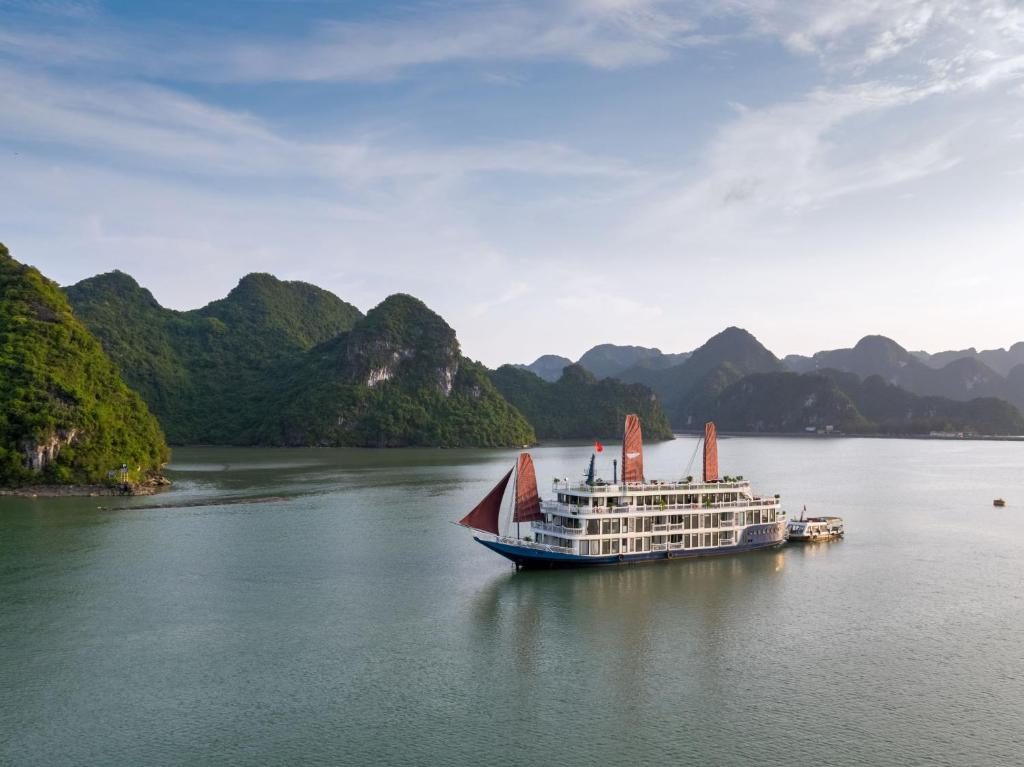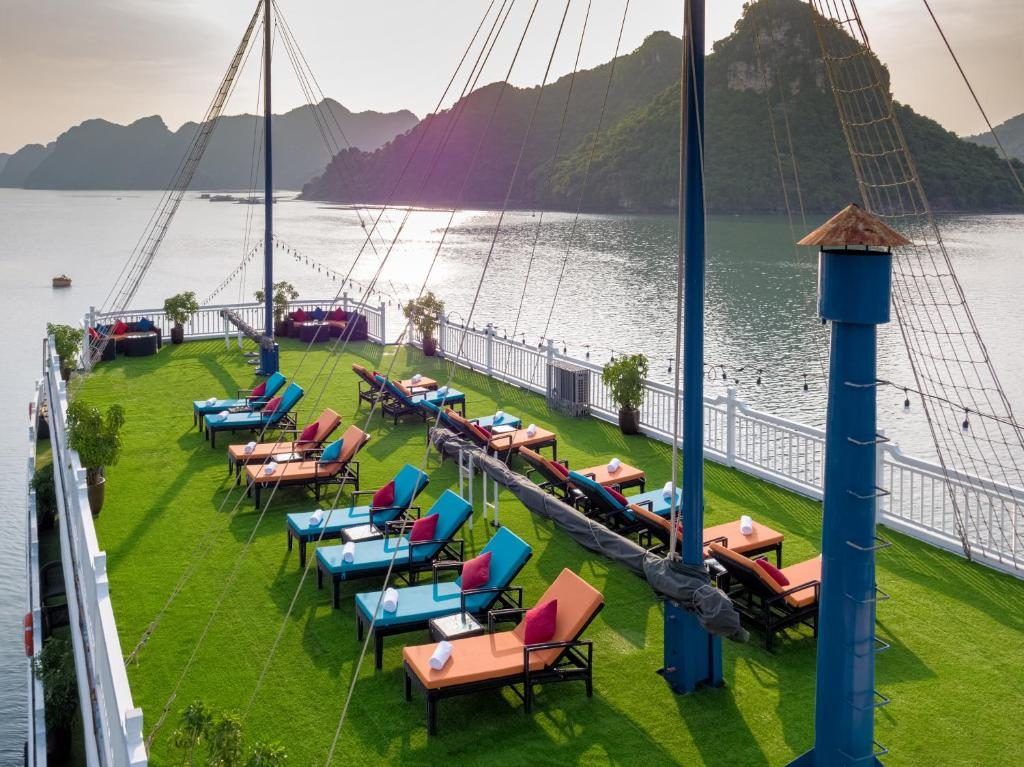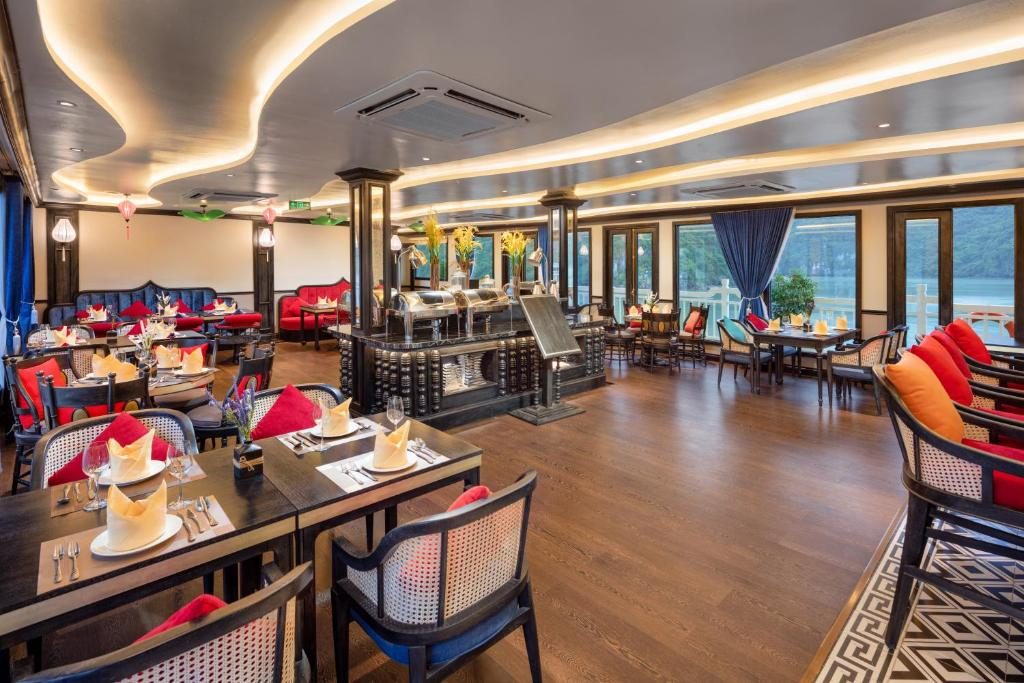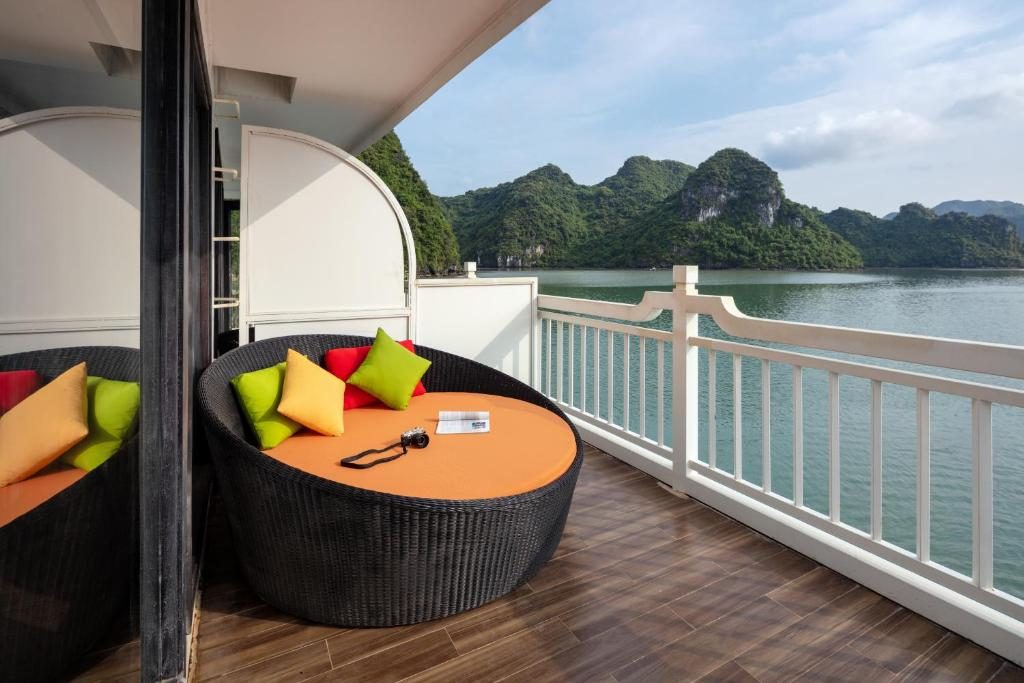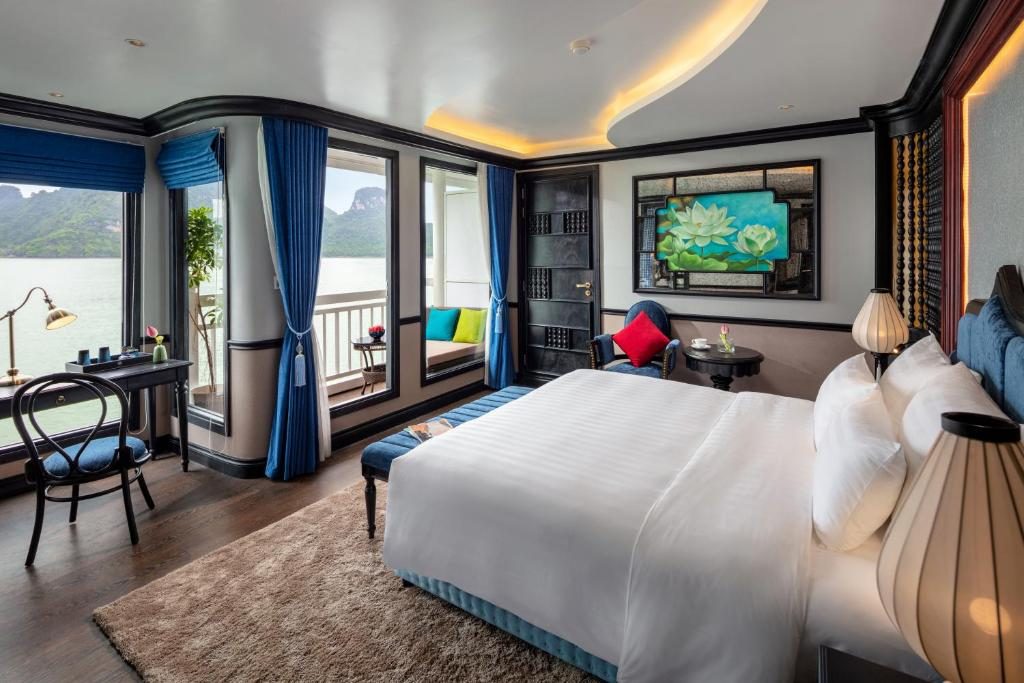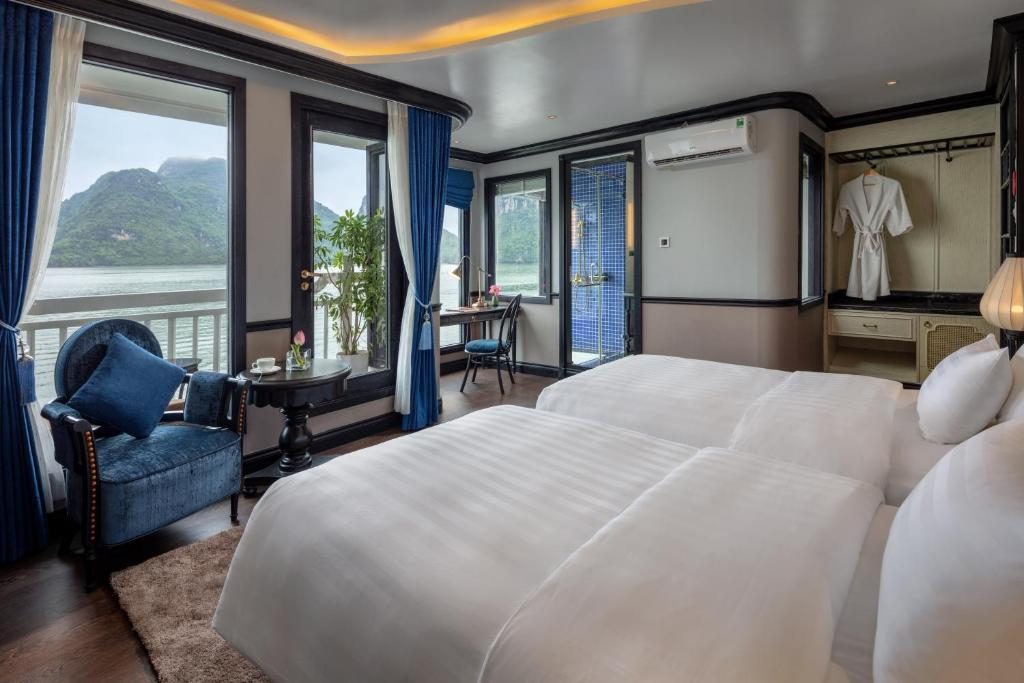 Verdure Lotus Cruise – Lan Ha Bay Cruise
DAY 1: HA LONG BAY – LAN HA BAY (KAYAKING/SWIMMING) – SUNSET PARTY
08:00: Pick up from Hotel in Hanoi Old Quarter or Opera Theatre House
11:30 – 12:00 AM: Arrive at Tuan Chau harbor, check in at the waiting room.
12:00 – 12:30PM: Get on Speed boad to Verdure Lotus Cruise and enjoy Welcome drink, meet the captain, crew to get a brief introduction about cruise and safety guidelines. Complete check-in procedure.
01:00 PM – 01:15 PM Enjoy Vietnamese seafood and vegetarian lunch, while cruising in the magnificent Halong – Lan Ha Bay, admiring the fascinating rock formations in the bay.
3:00 PM: You can choose to relax on the sundesk or explore Ba Trai Dao – Tra Bau area and the natural lagoon of Lan Ha Bay and experience kayaking here.
5:30 – 6:00 PM: Return Verdure Lotus Cruise and participate in our Sunset party. Take photos and relax.
7:00 PM:  Dinner is served at the restaurant. After  dinner, you can join the squid fishing program, relax on the sundesk, enjoy a glass of wine at the bar…
DAY 2: LAN HA BAY – TUAN CHAU
6:15 – 7:00AM: Have breakfast. Morning view of bay's landscape with a cup of tea or coffee.
7:00 AM: Visitors Dark and Light Cave. Here you can freely kayak  or bamboo Boat to explore the landscape, or immerse yourself. in the cool, clear blue water of this place.
9:30 AM: Back to your cabin, take relax and check carefully all the luggage before leaving your cabin.
10:00 AM: Check-out from the private cabin and enjoy a fantastic cruise on the bay for room service. Complete check-out procedure. Enjoy lunch at the restaurant while the cruise is returning to the harbour.
11:00 AM: You take the high-speed canoe back to Tuan Chau port. Return to Hanoi
Back to your hotel in Hanoi Old Quarter at around 15:00 – 16:00.  End of unforgettable trip!
Verdure Lotus Cruise – Lan Ha Bay Cruise
DAY 1: HA LONG BAY – LAN HA BAY (KAYAKING/SWIMMING) – SUNSET PARTY
08:00: Pick up from Hotel in Hanoi Old Quarter or Opera Theatre House
11:30 – 12:00: Arrive Tuan Chau Harbor
12:00: Transferred to main boat by tender. Embark on Cruises
Warmly welcome to Cruises! While enjoying welcome drink, our cruise manager will deliver cruise briefing and safety introduction. After that you will check in your cabin.
13:00:  Enjoy fabulous lunch
Fabulous lunch is served while Cruises starts his sail into magnificent Ha Long Bay – an extension of Ha Long Wonder which is much quieter and has fewer tourists. He will pass famous Finger Islet, Candle Islet and thousands of uniquely shaped limestone towers and islands.
15:30  Explore Tra Bau floating village  
Option 1: Swimming Ba Trai Dao Island 
Option 2: Our small boat brings you to visit a fishing village names " Tra Bau " to Join the kayaking experience to explore the Tra Bau area – the famous filming location for Kong Skull Island (King Kong) in Quang Ninh in 2018. 
17:00 – 18:00: Sunset Party, Happy Hour and Cooking Class
Back to Cruises and relax. It's time for Sunset in Lan Ha Bay.  There's something magical about sunsets. It's not only the colors but the feeling, the atmosphere, the temperature. The way you feel at a certain moment. Enjoy our "Sunset Party "and "Happy Hour Deal "
Cooking Demonstration is an on-board activity which helps passengers not only to sample fine cuisine but also learns more about Vietnamese culinary culture. Cruise Chef will show and guide you how to make Vietnamese traditional dishes such as fresh or dried springing roll and/ or how to carve different kinds of vegetables and fruits.
19:00: Savor deluxe dinner
Enjoy delicious local food prepared and served for you by our wonderful on-board catering staff, night view on Lan Ha Bay is incredible.
21:00 – 23:00: SPECIAL ACTIVITIES 
Enjoy overnight activities on board as squid fishing, the fabulous drinks on our bars, movies, spa therapy, or just relax in your room
Overnight on  Cruise.
DAY 2: LAN HA BAY – VIET HAI VILLAGE – CAT BA ISLAND
06:00 – 7:00: In the morning on  Cruises -Have light breakfast
 Cruises continues to passing amazing karst towers. Tea, coffee and light breakfast is served with fresh air and peaceful surroundings.
08:30: Discover Cat Ba Island – Lan Ha Bay on the hidden route.
You will be transferred to the day tour cruise to visit the bay to go further than Lan Ha Bay. You start the journey to discover Viet Hai village – a peaceful village with extremely beautiful scenery by bike, through vast rice fields. You stop to rest and visit the old house made from straw, mud, bamboo … find out the lives of local people.
12:00: Return to the day tour cruise. You will be served lunch with a variety of dishes at the restaurant.
14h00: The cruise takes you to the pristine beach area – Ba Trai Dao beach. This is the most beautiful beach in Lan Ha Bay with nature amazing white sand, very quiet and less tourists, you are free to swim or participate in kayaking activity.
16:30: Return to Cruise. You will be watching the sunset fall on Lan Ha Bay, immersed in soothing or vibrant music, sipping a cocktail.
19:30: Enjoy dinner at a restaurant on Cruise.
20:30: Enjoy the nightlife of Ha Long Bay from the deck. Immerse yourself in music, enjoy a glass of cocktail from the bar, sing karaoke and relax on the cruise. Otherwise, you can fish squid with the sailors or simply relax in the room and watch Ha Long Bay from the balcony.
Overnight on Cruise.
DAY 3: LAN HA BAY – HA LONG BAY – HANOI
06:00 – 7:00 : In the morning on Cruises -Have light breakfast
Cruises continues to passing amazing karst towers. Tea, coffee and light breakfast is served with fresh air and peaceful surroundings.
08:00: Explore Lan Ha Bay – Ha Long Bay
We will visit the Dark and Bright cave – famous for the pristine natural beauty and poetic, attractive seascape of Lan Ha Bay. Here you will take some photos of the romantic, lyrical local see-sights. This is also the best time for tourists to enjoying bamboo boat or kayaking which is an interesting activity to discover the truest beauty of the Limestone Mountains and the blue sky of Lan Ha Bay. 
09:00: Back to the boat for check-out
10:00: Brunch time 
During the time well prepared lunch is served, Our Cruises slowly navigates emerald water and thousands of Karst Mountains towards the Harbor.
11:00 – 11:30:  Back to Tuan Chau Harbor
Car transfer service by the highway from Halong to Hanoi is available for booking in advance.
Back to your hotel in Hanoi Old Quarter at around 15:00 – 16:00.  End of unforgettable trip!
Attention: The itinerary is subject to change due to the weather, tide level and operating conditions without prior notice.
Verdure Lotus Cruise – Lan Ha Bay Cruise
Cabin type

Floor

2 Days 1 Night

3 Days 2 Nights

2 pax

1 pax

2 pax

1 pax

Deluxe Cabin

1st

$322

$226

$570

$415

Executive Cabin

2nd

$348

$239

$623

$441

Suite Jacuzy

1st

$374

$278

$675

$520

Suite Jacuzy

2nd

$391

$261

$710

$485
INCLUSIONS
Round trip Hanoi – Halong transfer

Entrance fees,   sightseeing fee, kayaking, rowing boat

English/ Vietnamese speaking guide onboard

Luxury accommodation, shower

Welcome drink

Meals onboard: 03 lunches, 02 dinners and  02 breakfasts

Insurance on-board

Fishing equipment
EXCLUSIONS
Drinks

Tips for tour guide and driver

Personal expenses

Air tickets and transportation from the airport

Other drinks and tobacco

Other expenses not listed above
CHILDREN POLICY
Children: 0 – 5 years old are charged free sharing room with parents.  2nd Children: Charge 50% Sharing with parrents

Children: 6 – 11 years old: Charge 50% Sharing with parents

Children 12 years old:  Charge 100% as a Adult