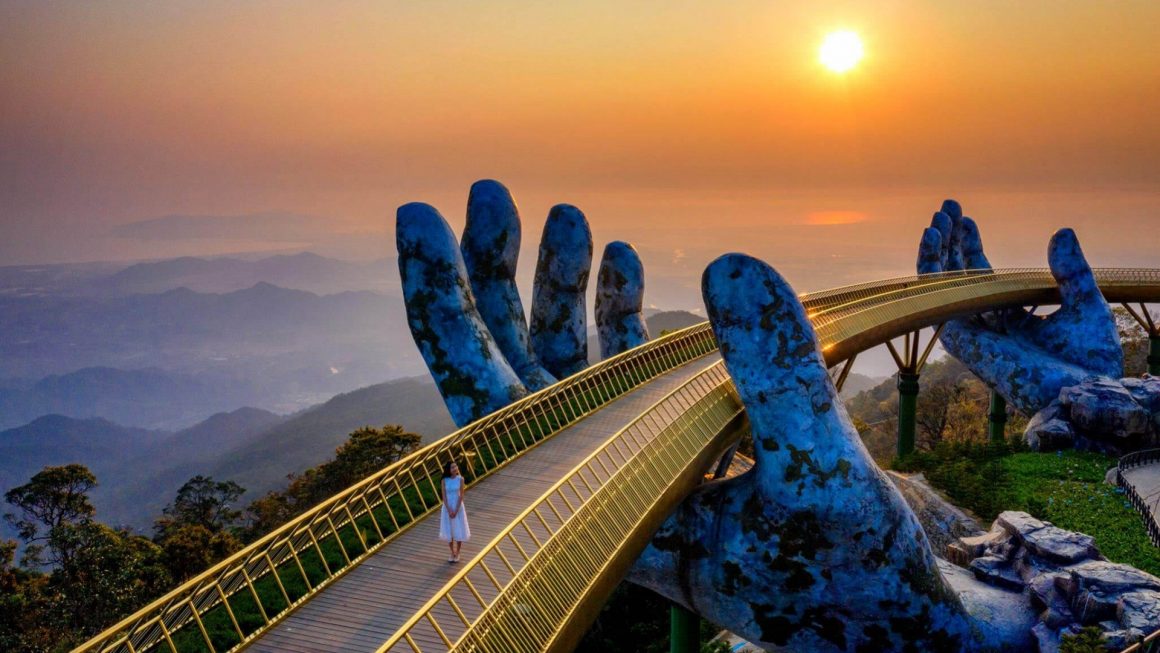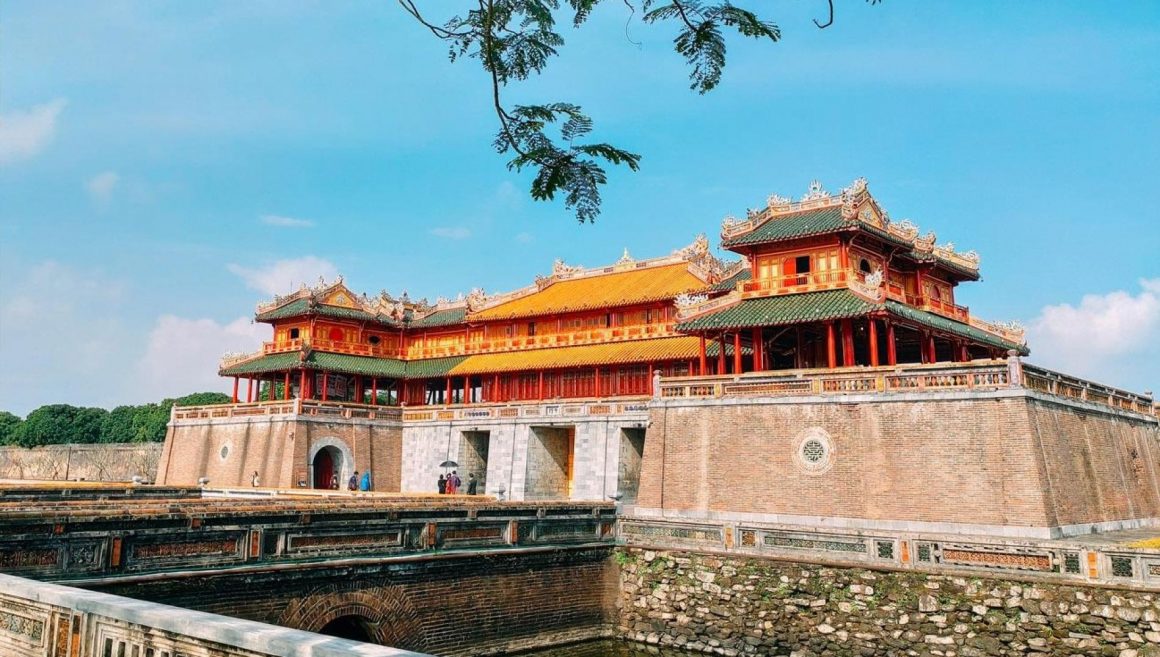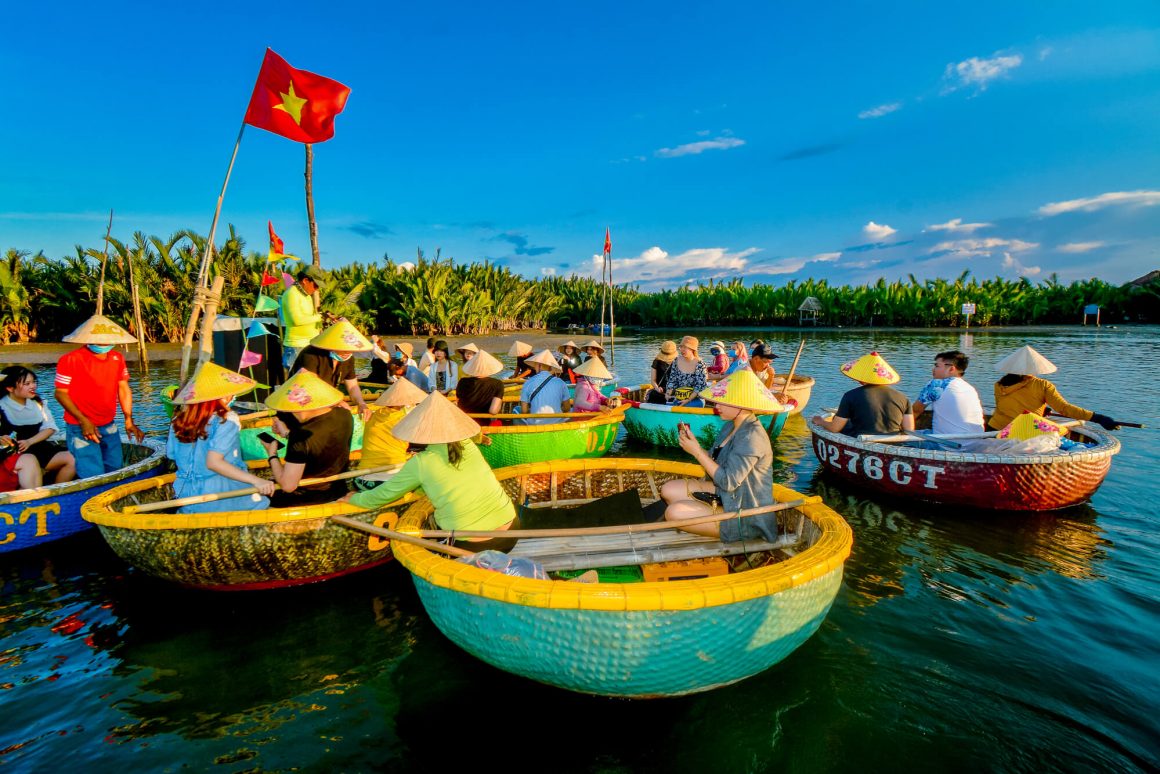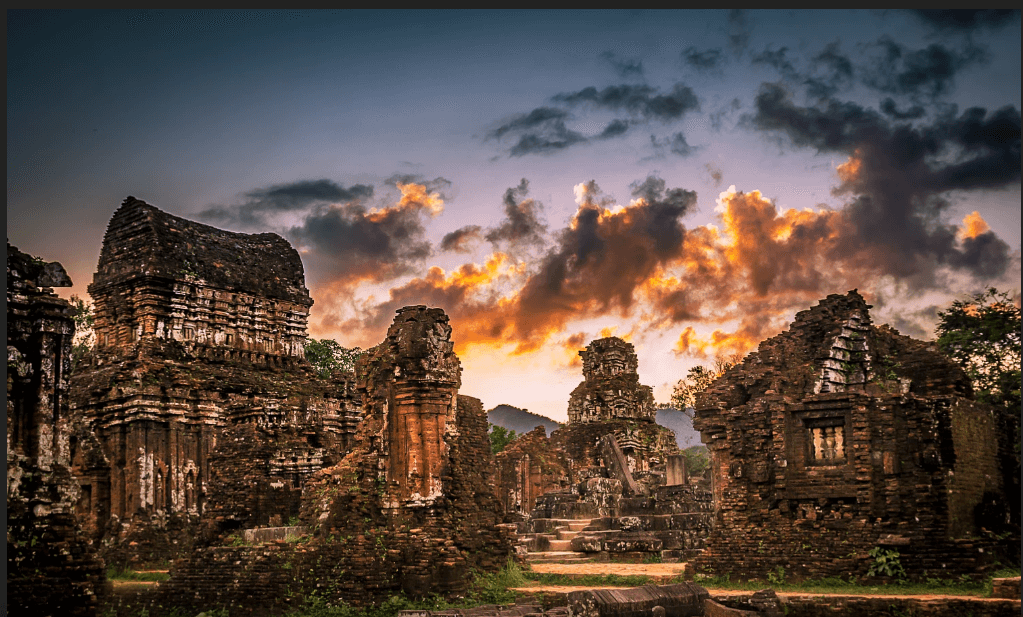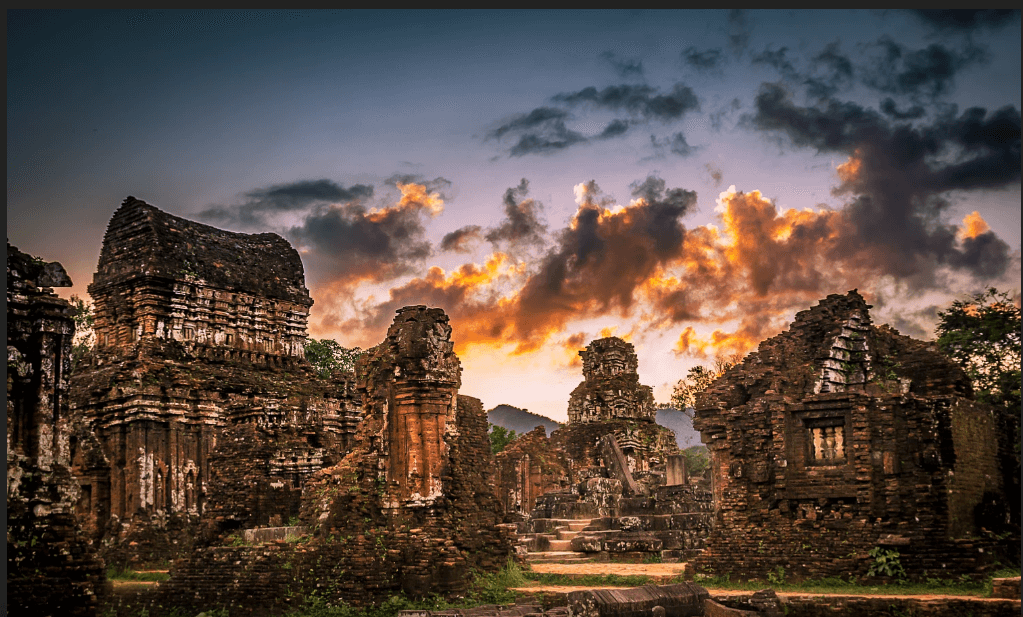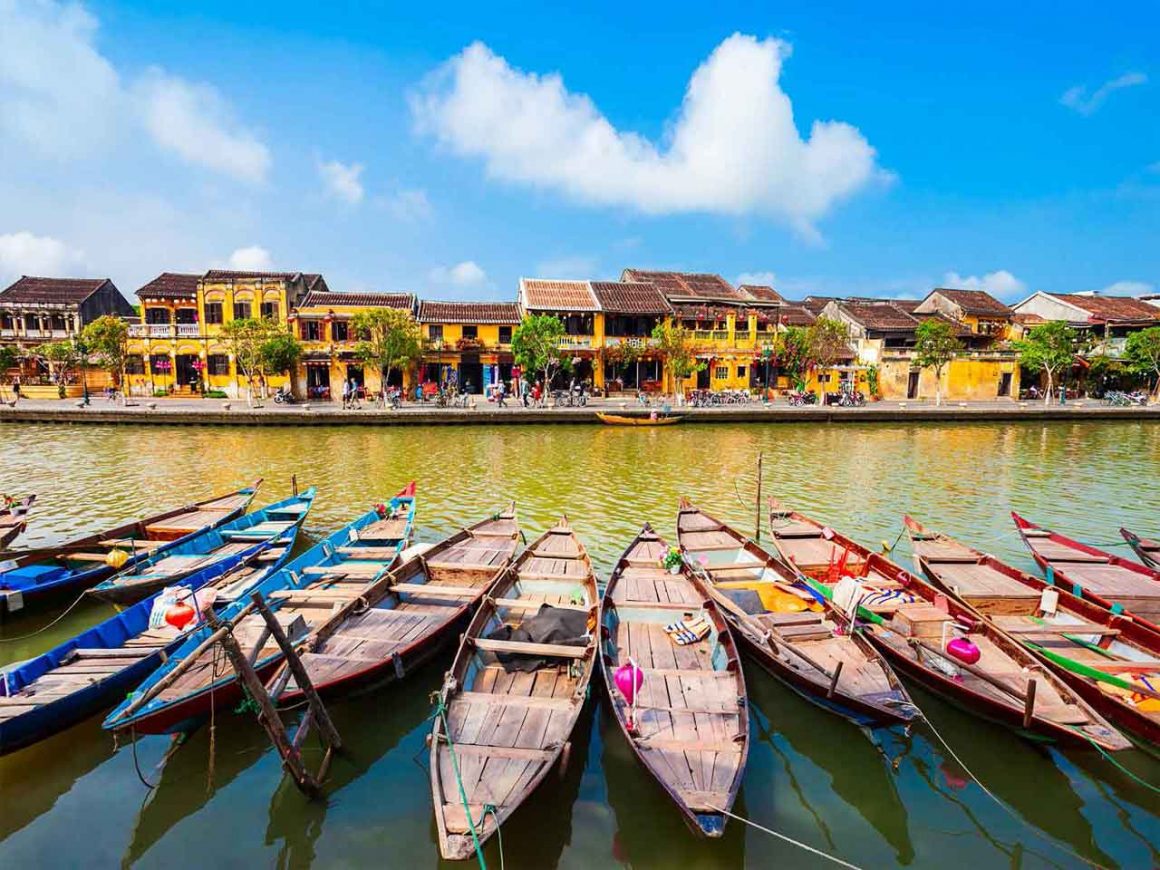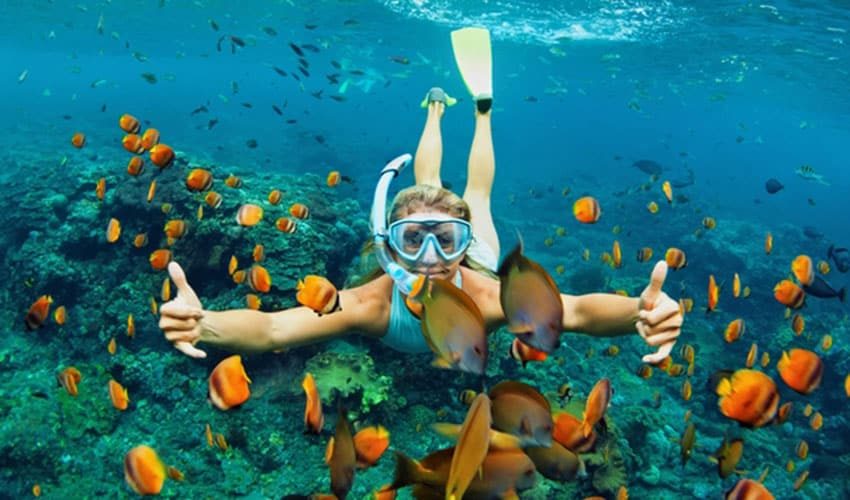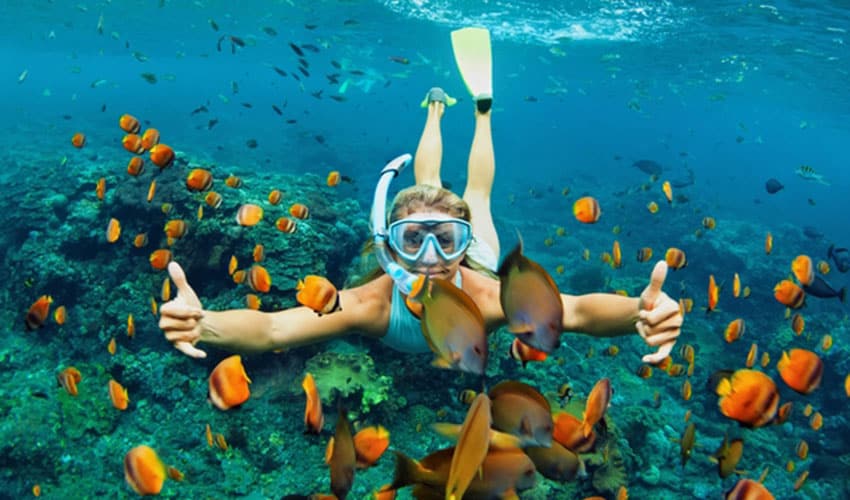 Danang Hue Hoi An 4 Days 3 Nights With Small Group Tour
Day 1: Ba Na Hills – Golden Bridge
Depart:
7h30-8h from Hoi An
8h-8h30 from Da Nang
Finish:
17h30-18h at Hoi An
17h-17h30 at Da Nang
07:30 am – 08:30 am
– Our Minivan and a tour guide pick you up at the hotel lobby. Reach Ba Na Hills via Cable Car.
– Spend your time on the most modern Cable Car in Southeast Asia, visit Dream Stream Cable car Station and see the panorama of Quang Nam – Danang City on high.
– After finishing the first cable car, you will visit The Golden Bridge – which has the most exotic structure and also the world's most prominent pedestrian bridges highlighted by the British Guard newspaper, France wine cellar, Le Jardin D'amourn(consists of 9 gardens), Linh Ung pagoda.
– Continue the 2nd Cable Car to visit the French Village – enjoy Street Music, watch Art's statue, Campanile, Nine Floor Goddess Shrine, Tombstone Temple, Watch Carnival Performance Show, Square Du Dome …Challenge the most popular adventure ride – Slide of Tube Car,Roller Coaster …
– Lunch at Restaurant (Buffet).
– Take the Lava Train from Sun Kingdom to many new attractions for check-in such as Helios waterfall, Time Gate, and The Moon Kingdom …Join in Fantasy Park by Walking in Fairy Forest, discovering Dinosaur Park, playing 5D wild west, enjoying 4D death race ride, watch 3D mega 360 degrees, ride on Journey into the underground, enter Jurassic Park, challenge Freefall Tower and participate in an adventure in Horror House and over 90 free games.
15:00: Return to the Cable Car for leaving Ba Na Hills.
16:45 – 17:45: Our Minivan brings you back to your hotel.
Day 2: Hue City Tour
Depart:
07:00 – 07:30 from Hoi An
08:00 – 08:30 from Da Nang
Finish:
19:00 at Hoi An
18:00 at Hoi An
07h00 – 7h30 am: Our car and tour guide will pick you up at your hotel reception in Hoi An and collect guests in Da Nang from 08:00 – 08:30.
Begin your journey to Hue by crossing one of the best coastal roads in the world, the Hai Van Pass or Hai Van Tunnel road. You will have a 30-minute stop at the peak and 5 – 10 minutes to take photos at Lap An lagoon which is a highlight of the beautiful Lang Co sea picture.
11:00: Visit the Khai Dinh Tomb.
12:30: Enjoy a delicious lunch at a Local Specialty Restaurant serving Hue style dishes.
In the afternoon
13:30: Continue to Hue's main attraction, The Imperial Citadel.
15:00: Explore Thien Mu Pagoda, Hue's largest pagoda.
16:00: Begin your return to Da Nang/Hoi An
Finish your Hue Imperial Tour, arriving in Da Nang at approximately 18:00/Hoi An at 19:00.
Day 3: Cam Thanh Water Coconut Village – My Son Sanctuary
09:00 – The local guide picks you up at your hotel lobby and transfers you to Cam Thanh fishing village.
09:30 – Transfer to Cam Thanh village by car or boat on the way, meet local fishermen and experience the daily life.
10:00 – Take a bamboo basket boat on the Cam Thanh water coconut forest and have a brief introduction to the history there.
11:00 – Join local fishermen on the river and enjoy the hands-on experience of round net and cast net fishing.
+ Learn to paddle the unique Vietnamese bamboo basket boat and join in a basket boat race.
+ Explore the now peaceful coconut waterways of a past war.
+ Go catch the crabs 
+ Return fisherman's house for a welcome drink.
+ Enjoy Lunch.
13:00 – Keep your moving to Hoi An city and depart to My Son Sanctuary – The World Cultural Heritage. 
14:30 – Arrive at My Son Sanctuary and we'll have 2 hours to discover the site by walking throughout the landscape, learning histories with our local English-speaking guide, and enjoying the Champa's traditional performances.
16:30 – Get back to minivan then transfer to the wharf for taking a boat trip to Hoi An with a nice and cool breeze on boarding, beautiful sunset river scenery on the biggest river in Vietnam Central named Thu Bon River. Get your camera ready for the amazing moment of local people's activities along the river 
18:00 – Arrive at Hoi An, we will drop you at your hotel.
Day 4: Cham Island Sightseeing And Snorkeling – Hoi An City Tour – Boat Ride – Drop Flower Lantern
07:30-08:30 – Pick up at hotel (Hoi An city) to Cua Dai harbour.
08:30 – Relaxing in fresh cool wind, you will enjoy the beautiful landscape on a speed boat to Cham Island.
09:00 – Arriving at Lang Beach. Visiting the Marine Protected Area, The Boat Shelter, Hai Tang pagoda, Traditional fishing Village.
10:00 – Swimming and snorkeling.
11:30 – Staying at Bai Ong ecological zone or Bai Chong beach, swimming, taking time to enjoy a sea food lunch.
14:00 – Packing luggage for return trip to Hoi An.
14:30 – Drop off at your hotel to prepare for next activities.
15:00 – Our guide will meet you at our hotel in Hoi An center and start the Hoi An City Tour.
Firstly, you'll visit Hoi An Market which is always bustling. It offers an unmissable shopping experience.
This market is full of sights, colors, sounds and smells.
Then, our tour guide will buy entrance tickets (included in the price) and start walking to the Hoi An Old Town – Go to the Phuc Kien Chinese Assembly Hall, a colorful mélange of bright gates, dragon statues and elaborate rooftops. Get an introduction to ancestor worship while visiting the family altar and watching local devotees making offerings.
You will see remarkably well-preserved old houses Phung Hung Ancient House or Tan Ky Ancient House – That have withstood 200 years of weather and war. Learn about the prosperous merchants who used to live in these homes, trading with buyers from all around the world.
Make a stop at the Japanese Bridge. The bridge spans a small waterway and was constructed more than 400 years ago to connect the Japanese community with the Chinese who lived on the other side of the water. Admire the carvings and paintings inside the bridge, learning about their symbolism and cultural significance.
Additionally, visit some of Hoi An's well-known handicraft shops and artwork galleries. Discover smaller laneways and local neighborhoods gaining a better appreciation of Hoi An's endless charm.
Enjoy your time with the boat ride and drop flower lanterns to pray for good luck for you and your family. You will immerse yourself in the fanciful space of the lantern street.
Our guide will take you back to your hotel in Hoi An. End Danang Hue Hoi An 4 Days 3 Nights With Small Group Tour Tour.
Danang Hue Hoi An 4 Days 3 Nights With Small Group Tour
Included:
Pick up & drop off
Cable cars, entrance fees in the Fantasy Park & Alpine Coaster (Ba Na Hills)
Golden Bridge, Funicular, Le Jardin D'amour, Debay Wine Cellar fee (Ba Na Hills)
Basket Boat rowing (Cam Thanh village)
English speaking guide
All meals mentioned in the itinerary
Entrance fees as per itinerary
1 bottle of mineral water per person per day
Excluded:
Accommodation
Travel Insurance
Wax Statue Museum (Ba Na Hills)
Motorboat jetski, Banana Boat, Fishing (Cham Island)
Tips, laundry and gratuities
Drinks
Notes:
Pick up/Drop off time is subject to traffic, weather…so the started/finished time could be later than expecting.
Pick up/Drop off are available around center of Danang & Hoi An (please confirm your address again)