Saigon has one of the best nightlife in Southeast Asia: Rough Guides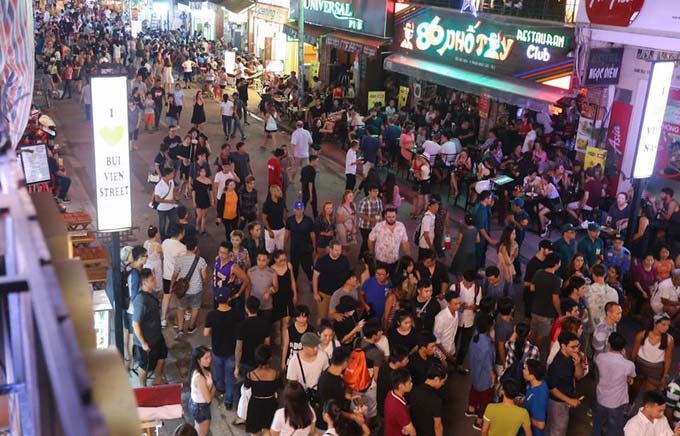 Bui Vien walking street in District 1 is crowded with tourists at night
Nightlife in the megacity has something for everyone, be it partying hard or watching the skyline with a cocktail.
Respected travel site Rough Guides just released a list of eight best night experiences in Southeast Asia, and Ho Chi Minh City is named THE place to delve into bars and clubs.
"When the sun goes down, the bustling energy of southern Vietnam's megalopolis transfers to its many clubs and bars," Rough Guides says.
If you're thirsty for a chic experience of Saigon's nightlife, put on your best dress or suit and head to the rooftop Chill Sky Bar in District 1, one of the city's most popular and fancy spots.
It stays open from 5:30 p.m. till small hours the next morning, offering a dusk till dawn-ish view of the city, fabulous cocktails and a small but exciting music scene to check out.
The U.K travel site also named Saigon Acoustic Bar in District 3 as a great rendezvous for a night out with pop-rock cover bands, while Carmen Bar in District 1 offers an odd selection of Spanish flamenco played by skilled Vietnamese musicians.
For a casual good time, the plastic tables along Bui Vien are a must, Rough Guidessaid, calling it the "Beer Street" of the city's backpacker district.
Bui Vien is part of the city's famous backpacker precinct that is closed to vehicles on weekends. It has drawn much attention from nomads with its bustling and energetic atmosphere, where they wander into the world of beer clubs, bars and pubs, shaking up the night in loud music, blink lights and cheers.
Other best night experiences in the region that are named on the list are music scene in Malaysia's Kuala Lumpur and Sarawak, an overnight stay at Thailand's most populous city The Big Mango or dance parties in Malaysia's Penang.
Or, visitors can grab a bite at Myanmar's former capital Yangon, indulge in street life and live music at Yogyakarta's Malioboro strip in Indonesia and dive into Singapore's art hub Kampong Glam.
Saigon, Vietnam's biggest commercial center, is one of the most popular destinations in the country. Official data showed that it received 6.4 million foreign arrivals in 2017, a 22 percent pickup from the previous year.
The city hopes to receive seven million foreign visitors this year.