Hau Giang with its lush countryside, rivers, local life and rich history, is a great weekend getaway.
Hau Giang is located at the heart of the Mekong Delta, around 240 km southwest of Ho Chi Minh City. Blessed with a not-too-hot, not-too-cold tropical climate and fertile riverine alluvial soil, Hau Giang is a top regional rice producer. Here below are some of its major attractions.
Lung Ngoc Hoang nature reserve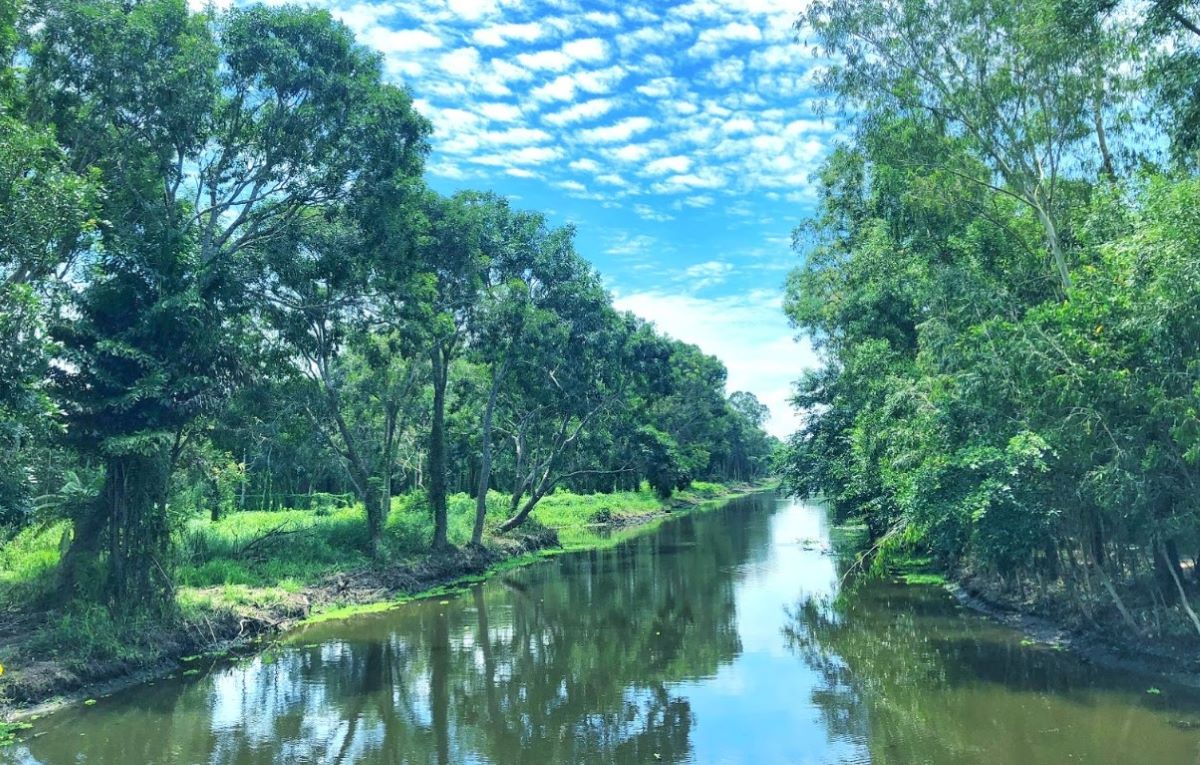 A corner of Lung Ngoc Hoang nature reserve in Hau Giang Province
Located in Phung Hiep District, the 2,800 hectare complex is one of the most diverse natural reserves in the Mekong Delta.
This ecotourism site features green grassland, cajeput forest, and swamp. It is rich in aquatic species and water bird varieties, some on Vietnam's protected list.
One of the best ways to explore the reserve is by boat, floating down the river, surrounded with lush green trees stretching along the banks, and water cabbage and moss covering the water surface.
Vi Thuy cajuput forest
Located about 9 km from Vi Thanh Town, capital of Hau Giang, Vi Thuy cajuput forest in Vi Thuy District is the largest eco-tourism area in Hau Giang.
Besides its tranquil and mesmerizing scenery, Vi Thuy forest represents the unique Mekong Delta wetland ecosystem, making it the great home to many fresh water species, as well as birds. The fertile soil here is great for growing fruit trees.
Similar to Lung Ngoc Hoang, visitors can explore Vi Thuy by boat or trekking. Don't forget to visit Kinh – Hoa (Chinese) – Khmer Cultural Museum located within the area.
Tam Vu eco-tourism area
Tam Vu is both a green scenic area and historical site. Not only will visitors get to enjoy a diverse ecosystem with many rare animals, but also learn about the bravery of locals during Vietnam's war against the French colonists, as well as local culture and customs.
Local leisure services include fishing from a wooden boat, trekking, and visiting the monkey island.
The Tam Vu eco-tourism area, located in Chau Thanh A District, lies about an hour's drive north of Vi Thanh Town.
Nga Bay – Phung Hiep floating market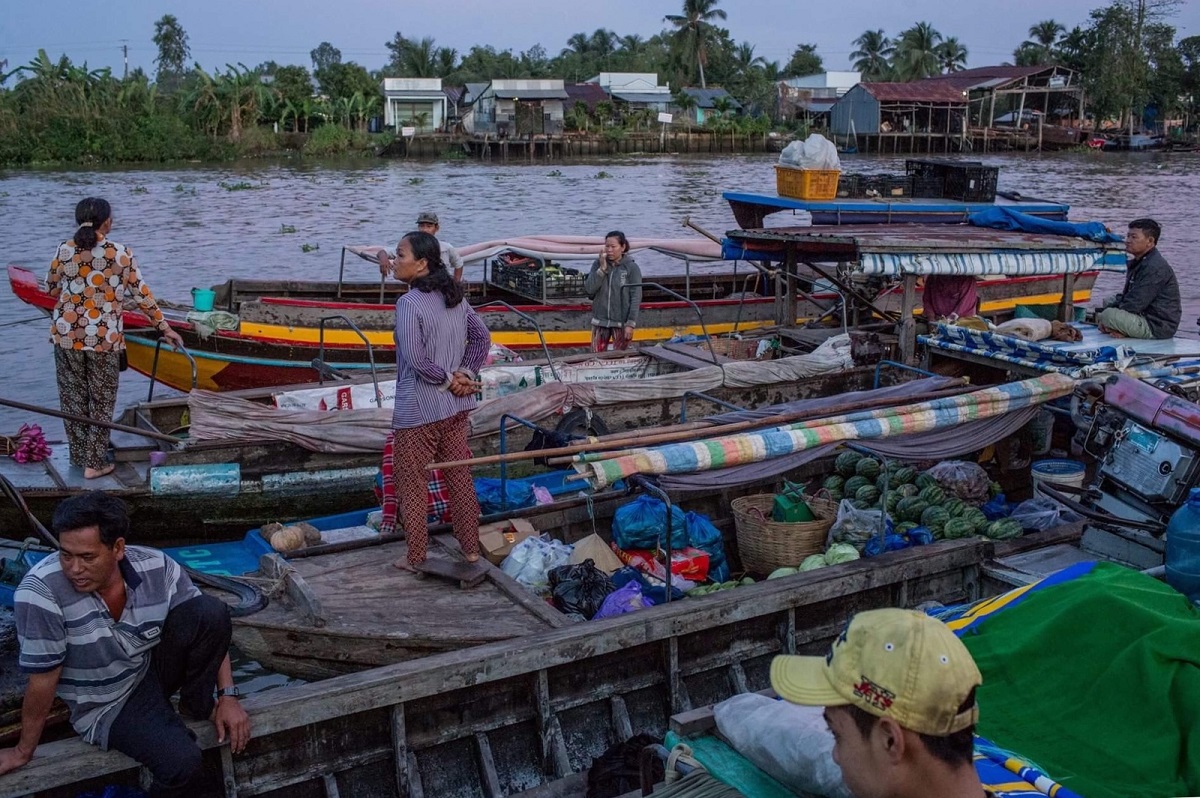 The Nga Bay floating market at its busiest time of the day
Nga Bay – Phung Hiep is among Hau Giang's most popular tourist attractions, as well as one of the largest floating markets in the southwestern region. The market is located at the meeting point of seven rivers (hence the name "Nga Bay", literally meaning seven way cross road).
Every morning, as early as 2:00 – 3:00 a.m, the market bustles with trading boats starting to gather. A variety of products are sold, including pho noodle soup, coffee, and fruit. This is a great place from which to glimpse local customs.
To gain a full and authentic experience, it is advised that visitors come here early in the morning.
Cultural & historic district Long My
The site is located about 28 km from Vi Thanh Town. During the wars against the French and American invaders, the district was chosen as base for the liberation army of Hau Giang Province, as well as the southwestern region.
Within Long My District, there are many sites commemorating its rich history, including a small museum with photos and relics from the war, Uncle Ho (President Ho Chi Minh) Temple in Luong Tam Commune, built in 1969, and a 28 m tall sculpture depicting former Vietnamese soldiers.
Alongside learning about history, visitors can also explore the stork garden, located in Xa Phien Commune. It is home to thousands of storks, as well as 30 other local bird species.