Ha Long Bay, Vietnam named in top 15 most Instagrammed global cruise destinations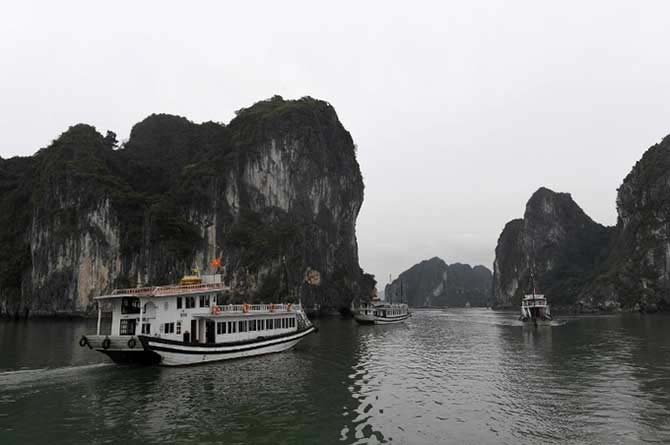 Tourist boats sail among islets on Ha Long Bay in April 2017. Photo by AFP/Hoang Dinh Nam
The world famous Ha Long Bay is also among the most mentioned on the photo sharing network, according to a survey.
Taking a cruise is an extravagant experience that most people want to make their friends jealous about, and  trip to Vietnam is no exception, according to a survey by SeaHub.
The cruise travel site studied nearly 1.8 million Instagram posts tagged on various ships and ports around the world and came up with a list of the 25 top destinations, which treats cities and countries as equals and thus includes London and Hawaii as well as Canada, Japan and Russia.
Vietnam made the top 15 with Instagram mentions ranging between 20,001 and 40,000, while the world famous Halong Bay earned between 400 and 10,000.
SeaHub did not specify the time frame it used to survey the photo sharing network, but mentioned sources dated from late 2015.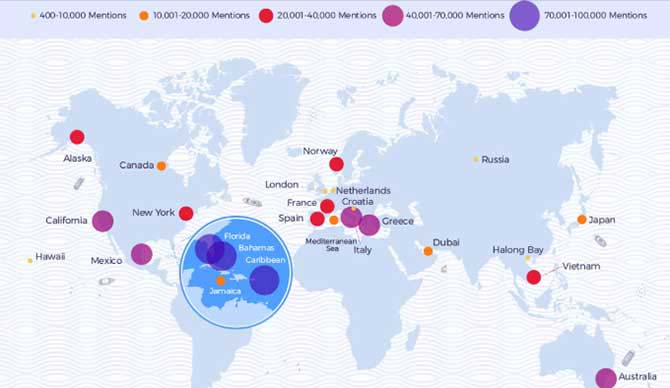 The country's long coastline and beautiful beaches are certainly some of the main attractions.Vietnam has one of the fastest growing tourism markets in the world, drawing nearly 13 million foreign visitors in 2017, up almost 30 percent from the previous year.
Last year, top U.S. lifestyle magazine Food and Wine named a cruise in Vietnam one of the 11 best trips across the globe for retirees.
It suggested either a river tour in Hanoi or Saigon, away from the hustle and bustle of the cities, or a boat tour through Ha Long Bay, a world natural heritage site with magnificent limestone rock formations rising from the sea.
Ha Long has always been one of Vietnam's biggest tourism magnets. The bay has been hailed by the U.S. travel guide site Smarter Travel as one of the best ecological spots in the world, while Business Insider said that an overnight Ha Long cruise trip is a "must-try" travel  experience in Asia.
It was used to film the Hollywood blockbuster "Kong: Skull Island" which hit theaters last March, and has been raved about by many travel bloggers, including Australian Phoebe Lee who took global viewers through the Vietnamese capital Hanoi in two CNN commercials last year.
Lonely Planet suggested the best time to take a trip to Ha Long Bay is in October
According to SeaHub, the most popular time for a cruise appears to be in July and August.
The Bahamas, Florida and the Caribbean topped the list by winning up to 100,000 mentions each, while Australia, California, Croatia, Greece and Mexico were also very popular.
Vi Vu – VnExpress.net