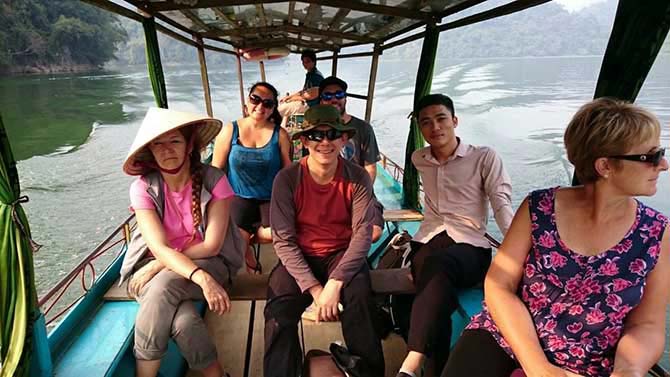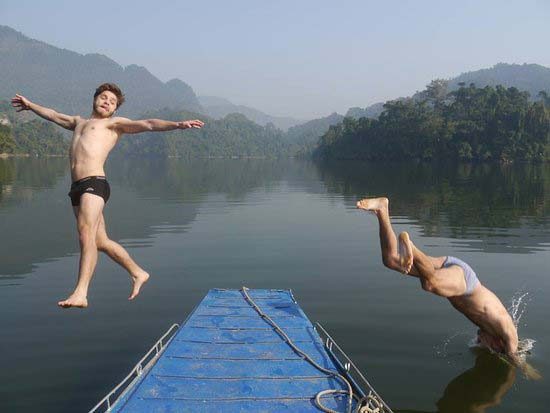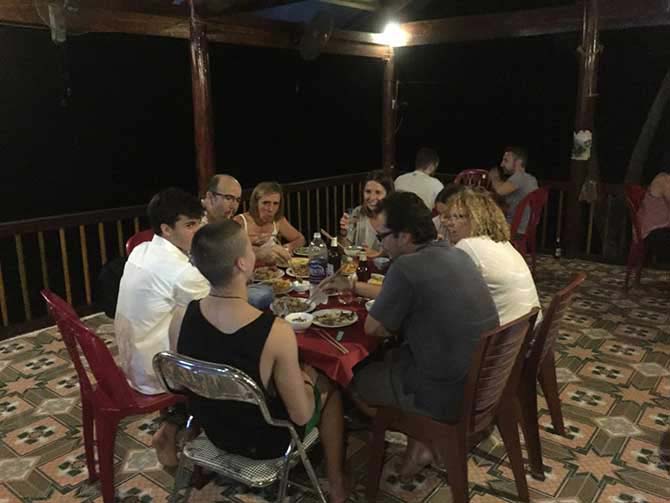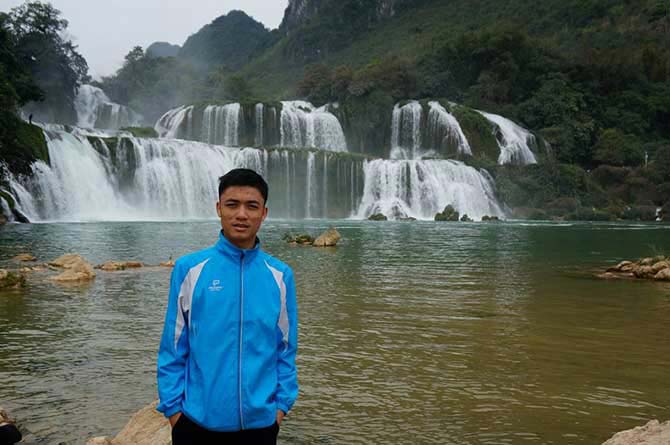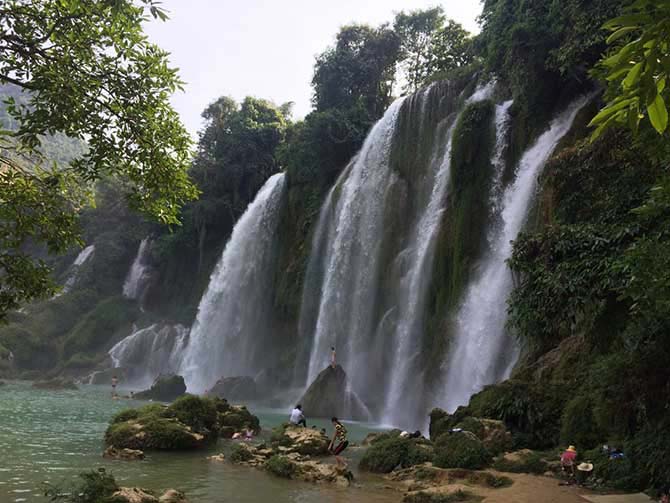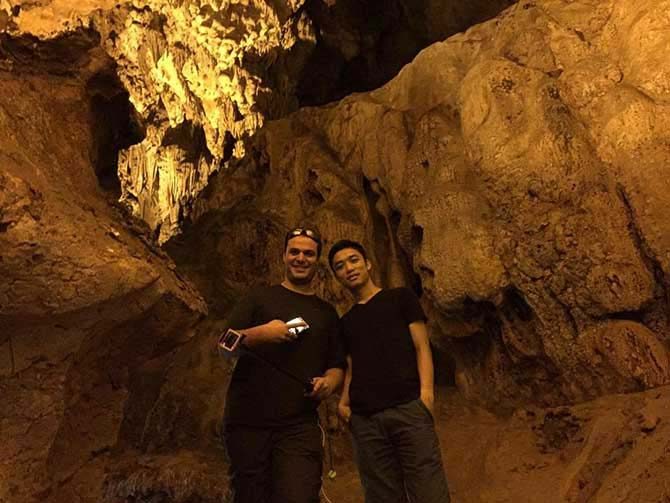 Ba Be Lake Ban Gioc Waterfall 3 Days 2 Nights Tour
DAY 1 – HANOI ⏤ BA BE NATIONAL PARK (L/D)
Our tour guide will pick you up by car at your hotel in Hanoi about 7:30 AM to transfer you to Bac Kan. We will start by driving in the direction of Ba Be National Park for about 4 hours. You will be welcomed by friendly host of Homestay and enjoy your lunch after checking in your room.
In the afternoon, start your boat trip around Ba Be Lake with our local guide. Ba Be Lake  was recently recognised by UNESCO as the third Ramsar site in Vietnam – an important wetland of the world. The lake bed is made up of limestone with millions of crags and crevasses that are ideal for a large variety of marine life – there are over a hundred species of freshwater fish in the lakes. The boat will take you to visit the missable spots on Ba Be Lake such as Widow island, Cam village, An Ma temple. After that, you take a short hike on the trail to the panorama viewpoint of the animal observation huts ranger station and to the harbour. Moreover, you will have a chance to kayak amidst the mystery sunset of the late afternoon before getting back to your homestay and enjoying your night dinner.
Highlights and activities: Ba Be Lake, Widow island, Cam village, An Ma temple, and hiking a 3-5km walk.
DAY 2 – BA BE NATIONAL PARK ⏤ BAN GIOC WATERFALL (B/L/D)
After breakfast at Mr Linh's Homestay, you will depart for Quang Uyen. a district inhabited primarily by Nung ethnic minority communities. Due to their isolation and the remote nature of the district, their centuries old traditions and culture remain recognizably distinct from other minorities in Vietnam. This remoteness and traditional simplicity are what makes Quang Uyen so appealing, and you will stop at a local restaurant to enjoy your lunch.
In the early afternoon, continue to drive to venture deep underground into the magical Nguom Ngao Cave, for a very different, but no less impressive natural wonder. The cave stretches for 2,144 meters underground and is brimming with incredible stalactites and stalagmites. And,  your highlight of the tour is that we take you to one of the most incredible natural wonders in Northern Vietnam: Ban Gioc Waterfall. This breath-taking 300-metre wide waterfall sits right on the border between China and Vietnam, amidst a beautiful mountainous landscape. While you're here you can spend your time relaxing in the glow of the natural beauty, take some amazing photos, and board a bamboo boat that will take you so close to the falls you'll feel the water splashes on your face, practically sitting at the very edge of Vietnam, so close to China that you can actually touch it.
Rounding out the day, you will then travel to Quang Uyen where you will have dinner and stay overnight at Nung's house.
Highlights and activities: Ban Gioc waterfall, Nguom Ngao cave, Frontier Vietnam – China, ethnic villages, and  a 3-5km walk.
DAY 3 – BAN GIOC WATERFALL ⏤ LANG SON ⏤ HANOI  (B/L)
After breakfast we'll kick the final day of the tour by continue your trip into the pass to Dong Dang, stopping to visit Mother's Temple and Dong Khe – an important historical site where The Battle of Dong Khe was fought during the First Indochina War. In fact, this was the very first battle of the Indochina Wars, and the fighting here took place through September and October 1950, ending in a resounding victory for the Viet Minh.
Transferring you to Lang Son for Lunch then we will start by driving in the direction of the Chinese border for about 3 hours, before stopping at Chi Lang Pass – a 20-km-long gorge created from a narrow valley between two mountains.
This place occupies an important position in Vietnamese history, being the place of many victories against various Chinese invasions over the centuries and millennia, as far back as 981AD. As such it bears the reputation of Vietnam's strongest citadel and bastion. Here you will have roughly an hour to walk around and explore the area around the Quy Mon Quan Gate, which translates as "The Gate of Monsters", named for the many invasion forces that would spill through the pass over the course of history only to be beaten back by stalwart Vietnamese defenders.
Highlights and activities: Chi Lang pass, Quy Mon Quan gate, Dong Khe battle site, ethnic villages, and a 3-5km walk
Ba Be Lake Ban Gioc Waterfall 3 Days 2 Nights Tour
INCLUDED:
AC transportation

02 nights at homestay

Meals [02 breakfast, 03 lunches and 02 dinners]

Entrance fees mentionedin the itinerary

English-speakingtour guide

01 bottle of water (500ml) is served every day during the time travellingby car
EXCLUDED:

VAT invoice, travel insurance

Additional fee if there is any change in ticket prices

Tips for driver and tour guide

Travel insurance

Beverages for meals and other personal expenses
NOTE:
You have to bring along your Passport

You should bring any type of medicine for preventing insects and common diseases

Bring your private toothbrush, toothpaste and towel (if necessary)

Tour guide can rearrange the schedule, but all places stay the same

If under 6 tourists, driver can also be tour guide

If you are a vegetarian, you can bring your own food to suit your taste (if necessary)

Do not bring a too big suitcase with you
Pack essentials, including light comfortable clothes suitable for outdoor activities, comfortable walking shoes. Take a small day pack for hiking and trekking.
It is essential to bring your passport on this trip. We also recommend packing: insect repellent, sun cream, raincoat and sun hat…
Warm clothes for winter time (December to March)