The Son Doong Cave in Quang Binh Province is among the most incredible places in the world recently found, The Telegraph says.
The cave, part of the Phong Nha-Ke Bang National Park in central Vietnam, is the world's largest, but it did not feature on Vietnam's tourism map until it was opened for tourists in 2013.
The Telegraph has included the once-hidden cave on the list of 11 newly-discovered places that are worth an amazing exploration journey.
Son Doong opened to tourists in 2013, four years after members of the British Cave Research Association concluded their initial exploration and declared it the world's largest cave.
The five kilometer-long system, which is 150 meters high and 200 meters wide, contains at least 150 individual caves, a dense subterranean jungle and several underground rivers.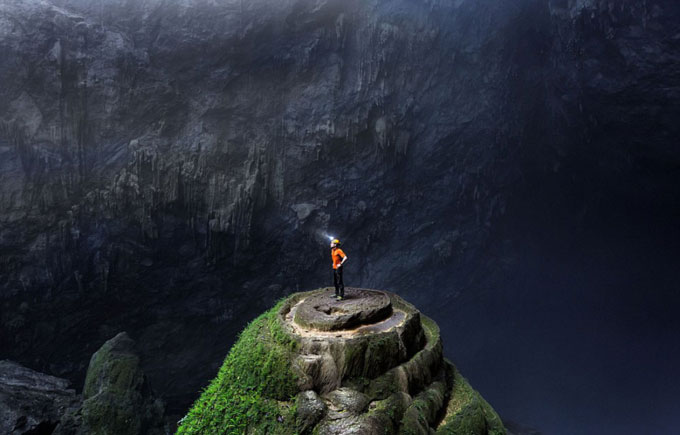 A tourist explores the cave. Photo by Urs Zihlmann
Due to limited space, registration for Son Doong tours must be made well in advance. According to Oxalis, now the only company licensed to bring tourists to the cave, only 300 spaces are available for 2019 tours.
A four-day expedition costs $3,000, and there are bus routes running from Hanoi to Dong Hoi, the capital town of Quang Binh, and then to the park.
The Quang Binh government recently raised the limit for number of tourists allowed to visit the cave from 640 to 900 a year.
Other incredible places that are recent finds include the Pico da Neblina mountain in Brazil, Xianren Bridge in China, Cape Melville in Australia, Machu Picchu citadel in Peru and Mount Mabu in Mozambique.
Last month, the U.K.-based travel guide publisher, Lonely Planet, named Son Doong Cave in Quang Binh among the best places to visit in 2019.
The New York Times has named it among the world's top eight travel destinations, while the National Geographic has called it a "natural wonder."
Nguyen Quy – VnExpress.net