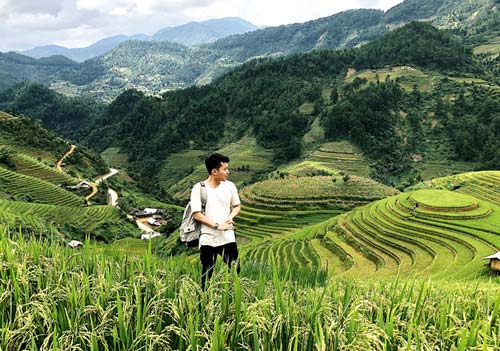 The famous terraced fields in Mu Cang Chai, a rural district of Yen Bai Province, in Vietnam's Northeast region
Photo by VnExpress/Nhat Tan
A friendly, cheap and safe destination, Vietnam is one travel blogger's top choice for solo travel.
IndieTraveller, an independent travel blogger website, asked 10 travel bloggers to pick their favorite destinations based on their experience.
Of these, Chris, a Canadian blogger at Lessons Learned Abroad, chose Vietnam as his favorite destination, citing its budget-friendliness.
Unlike Thailand, which is heavy on the party scene, Chris said it was way cheaper to traveling to Vietnam, since he could even get a room for as low as $3 per night, which may even include breakfast and a free beer, allowing him to use the rest of his money on getting a full travel experience, visiting beaches, hiking to different places, and drinking at different bars.
He also said that the country was a safe destination and has a "well-traveled backpacker scene," so a new solo traveler will have no problems making new friends.
Chris recalled his memory of a man in Saigon who gave him a half-toothless smile and a thumbs up when speaking with him.
"It was just a little moment, but as a solo traveler, those are the moments that matter," he wrote.
Other bloggers listed countries that neighbor Vietnam, like Thailand, while Cuba, Belgium and Panama stood out as favoured destinations for solo travel.
In August, the U.S. News newspaper listed Vietnam as one of 30 best solo travel destinations alongside neighbors Singapore and Thailand.
The ancient town of Hoi An in central Vietnam last June was named among the 10 safest and most exciting places on this earth for solo travelers in a list compiled by travel editors at Momondo, a U.K. based travel site.
Dang Khoa – VnExpress.net